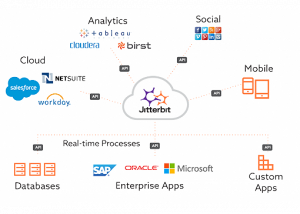 Jitterbit helps businesses  make faster, more effective decisions by enabling them to unify and exploit data from all sources. Using the Jitterbit API integration platform companies can rapidly connect SaaS, on-premises and cloud applications and instantly infuse artificial intelligence into any business process.
Jitterbit is a commercial software integration product that facilitates transport between legacy, enterprise, and on-demand computing applications. Jitterbit employs a GUI (graphical user interface) and works with diverse applications including ETL (extract-transform-load), SaaS. The Jitterbit Harmony API Integration Platform is Jitterbit's modern, multi-tenant, born-in-the-cloud. API integration platform that connects Software as a Service (SaaS), on-premise, cloud, and legacy applications. The Jitterbit Harmony API Integration Platform is powered by Jitterbit's iPaaS capabilities.
Complete integration lifecycle management. Use Jitterbit Automapper to intelligently map fields. Build powerful integration processes with the workflow designer. Whether you're a massive enterprise company or a small business, you need an integration strategy. The digital revolution has begun. According to ZDNet, medium- to large-sized business use between 300 and 400 cloud apps. Gone are the days of massive technology suites centrally owned by IT. Today, companies—and departments within those companies—are free to choose the technologies that best fit their business strategies, even as their needs quickly evolve. Companies that don't manage this explosion of applications, systems, data and devices will not only fail to see real value from all these investments, but they also risk falling behind their competitors.